Wholesale Parts Division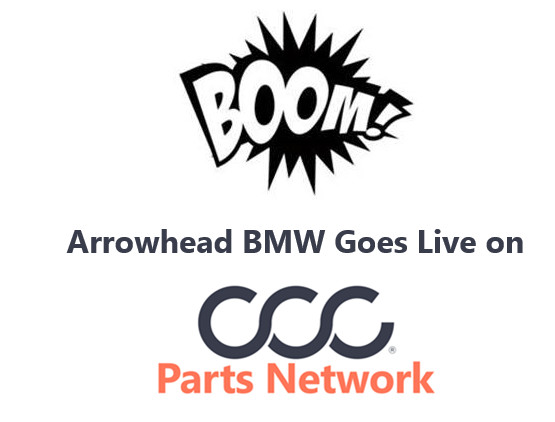 WHOLESALE PARTS DIVISION Direct: 602-603-8270
REWARDS: http://www.bmwultimaterewards.com/Account/Login?ReturnUrl=%2f
AIRBAG INFO: https://www.bmwusa.com/safety-and-emission-recalls.html
ACCESSORIES: https://www.shopbmwusa.com/BMW-GENERAL-ACCESSORIES/?CenterId=46886
PARTS WHOLESALE REPAIR FACILITIES ONLY: https://www.partslink24.com/partslink24/user/login.do
OPS TECHNOLOGIES: https://www.opstrax.com/ops/index.cfm?event=general.doStart
PARTS TRADER: https://www.partstrader.us.com/
COLLISION LINK: https://collisionlinkshop.com/LogOn?ReturnUrl=%2f

WELCOME TO THE ARROWHEAD BMW WHOLESALE PARTS DIVISION
We always encourage online ordering via www.partslink24.com or direct email via [email protected] If voice ordering is needed the direct number is 602-603-8270.
This dedicated number rings on all the phones in the parts department. Once in our capable staff members hands rest assured, we appreciate your business and the opportunity to serve you and your business needs.
Parts Delivery is free within a 12 Mile radius, beyond that range alternative shipping is possible always communicate any special delivery needs to counter person so we can prioritize our routes. Delivery of parts is by company van and it delivers all day starting at 8:30AM and continues till 4:00PM.
Our Parts department is 19,000 square feet and the inventory is fresh and healthy. With $500,000.00 currently in stock we are ready to grow our wholesale relationships.
As we bring on new accounts such as yours we will perform parts sales analysis and make the necessary adjustments to the inventory to suit your purchase habits.
Ordering special orders,
We receive our parts from Redlands California overnight freight free. The order transmit cut off time is noon daily.
If a part needs to come from one of the other 6 RDC's (Regional Distribution Center) it will add 2-4 days depending on where it is coming from in the country.
If overnight service is requested a freight fee of 10% is charged. It's Really fair and simple @ $1.10 per $10.00 of your account's parts price.
Example a part costing you $22.00 will have an overnight freight fee of $2.20. The order cut off for overnight is 2:00PM local. Order by 2:00PM local and the part is coming from Texas west to California will be shipped FedEx and should arrive the following day. With a Maximum of $50.00 per item and or order.
Large part or heavy units will be shipped FedEx LTL freight 2-4 days freight free is the norm. (Engines / Transmission and large body parts.
Thank you for the opportunity to serve you.